---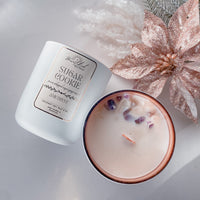 As you light the candle, the room fills with the irresistible scent of warm, sugary goodness, evoking memories of holiday baking and heartwarming moments. The fragrance dances in the air, conjuring images of cookie dough being lovingly shaped and the anticipation of that first, blissful bite.With top notes of warm toasted pecans, almonds and whipped sugar, middle notes of spices and butter, and finished with the warming aroma of maple.
Crystal - Amethyst + Clear Quartz 

8 oz in size with a burn time of 50 + hours.
Hand poured with coconut soy wax and fine fragrance oils. Lit with a sustainably sourced wooden wick. 
Paraben Free | Phthalate Free | Paraffin Free| Vegan Friendly