---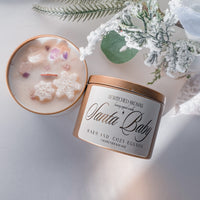 Unveil the magic of the season with our enchanting 'Santa Baby' candle, with notes of holiday warmth and the cozy embrace of spiked eggnog. Imagine being nestled by the fireplace, wrapped in a soft blanket, as the rich and creamy aroma of freshly made eggnog drifts through the air. With top notes of warm brown sugar and cream, finished with rum and spices.
Crystal - Amethyst +Rose + Clear Quartz 

8 oz in size with a burn time of 45 + hours.
Hand poured with all natural coconut soy wax and fine fragrance oils. Lit with a sustainably sourced wooden wick that adds a cozy crackling ambience to any room.
Paraben Free | Phthalate Free | Paraffin Free| Vegan Friendly