---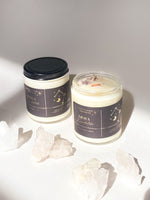 Zodiac -  Libra  September 22 - October 23
Crystals - Lepidolite Crystal
Passionfruit Tea notes of fresh Passionfruit juice,white and green tea leaves and nectarine with bottom notes of plumeria and  lemon zest. 
Wild Vanilla + Spice notes of vanilla bean, maple, cardamom with bottom notes of cinnamon and coconut. 
Our Crystal Candles are hand poured in our studio and curated with sustainable Coconut Soy Wax + Fine Fragrance and placed with authentic crystals. Ignited with a crackling wooden wick that gives off a soothing crackle + beautiful ambiance. 
9 oz in size with up to 45-50 hours of burn time.
Non Toxic + Vegan Friendly
 Paraben Free | Phthalate Free | Paraffin Free