---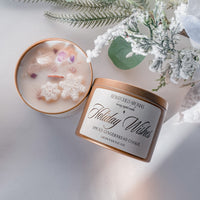 Indulge in the cozy allure of our Holiday Wishes candle, where the heartwarming aroma of freshly baked treats meets the spice-laden air of the holiday kitchen. Imagine the delight of warm gingerbread cookies straight from the oven, adorned with a perfect blend of cinnamon, nutmeg, and clove. The notes of our Spiced Gingerbread Cookies candle create a sense of nostalgia and bliss, infusing your space with the essence of festive baking and the joy of sharing.
Crystal - Amethyst +Rose + Clear Quartz 

8 oz in size with a burn time of 45 + hours.
Hand poured with all natural coconut soy wax and fine fragrance oils. Lit with a sustainably sourced wooden wick that adds a cozy crackling ambience to any room.
Paraben Free | Phthalate Free | Paraffin Free| Vegan Friendly