---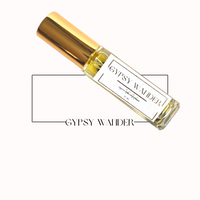 Gypsy Wander - Earthy and Wild - This scent is reminiscent of wilder days,  free spirits and shambhala forests. Top notes of patchouli flower blend with orange petals and champa incense, with heart notes of sweet cashmere and lavender buds. Base notes of earthy amber resin and musk warming to your natural pheromones. 
Stay Wild Moon Child 

Crystal - Obsidian 
Our Perfumes are carefully curated to give you long lasting and skin safe fragrance, and is perfect to add to your daily ritual. We suggest 1-2 spritz on neck, wrists and ankles. 
 10 ml in size, perfect for on the go 
Please note that each batch of our perfume and perfume body oil is carefully curated, and perfume + body oils are like a fine wine, and scent notes and colour can change and develop with age.