---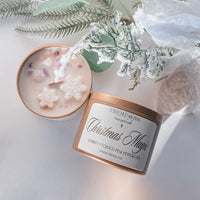 Experience this captivating blend that captures the magic of Christmas night. Top notes of pink peppercorn adds a cozy spice,  as the rich and warm essence of resinous myrrh develop, creating a sense of mystique. The earthy allure of patchouli grounds the fragrance with its deep, woody aroma. The bright and uplifting notes of bergamot add a touch of citrusy freshness, balancing the richness of the resinous elements. The sweet and comforting aroma of vanilla weaves through the air, leaving a soft and lingering sweetness.
Crystal - Amethyst +Rose + Clear Quartz 

8 oz in size with a burn time of 45 + hours.
Hand poured with all natural coconut soy wax and fine fragrance oils. Lit with a sustainably sourced wooden wick that adds a cozy crackling ambience to any room.
Paraben Free | Phthalate Free | Paraffin Free| Vegan Friendly