---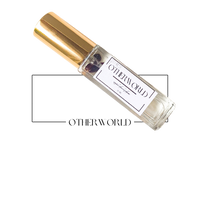 Otherworld- This scent will take you there. A unique spicy and otherworldly blend of pink peppercorn, chilli pepper, pomegranate, raspberry, mandarin and clove. 
Crystal - Garnet 

Our Perfumes are carefully curated to give you long lasting and skin safe fragrance, and is perfect to add to your daily ritual. We suggest 1-2 spritz on neck, wrists and ankles. 
 10 ml in size, perfect for on the go 
Please note that each batch of our perfume and perfume body oil is carefully curated, and perfume + body oils are like a fine wine, and scent notes and colour can change and develop with age.